Mobile Broadband devices
Whether you are out and about with work, want to catch up on the news, or don't have access to broadband, you can still jump online and stay connected with Mobile Broadband.
How to connect? Plug in a T-Stick to your laptop and you're ready to go. A T-Stick uses the same signal as a mobile phone so wherever there is Spark mobile coverage you can go online.  Our network covers 97% of the places Kiwis live and work. View our coverage map
Choose from a range of devices
Spark MF65+ WIFI HOTSPOT
 $68.70 excl. GST
Get yourself and your friends online. The Spark MF65+ wifi hotspot gets you download speeds up to 21Mbps, with a average speed of 4Mbps.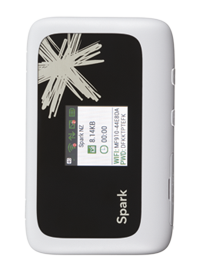 Spark MF910 HOTSPOT
 
 $129.57
Fast sharing. Long lasting.
Share your connection at high speed. The Spark MF910 hotspot will get you download speeds of up to 150Mbps. It connects up to 10 devices. And its battery keeps you going for up to 8 hours.
How do I order a Mobile Broadband device?
Call your local Business Hub on 0800 110 062 or the business help desk on 126 or visit your nearest Spark Business Hub.
Find a Business Hub near you
What else you should know...
Actual speeds will vary, national average speed for mobile broadband devices are estimated at 3-4Mbps. Speeds you receive will vary depending on factors such as your location and its surroundings, other users on the network and the type of activity you are doing. Please ask us about the Spark terms, conditions, service availability and charges that apply.