VPN Connectivity
With SecureME you can combine cost effective and secure internet access with detailed reports and monitoring – all in one affordable package.
---
WHAT IS SECUREME?
SecureMe is a smart and secure way to connect your sites and users together across the internet. SecureMe uses leading firewall and VPN (Virtual Private Network) technologies to deliver a cost effective network and internet security solution.
---
SecureME comes with a central management system which provides a complete network protection package. All software is updated and patched automatically and any attempted intrusions dealt with.
Firewall
SecureME provides true enterprise level protection with a stateful inspection firewall, which makes decisions based on information from all communication layers and other applications.
Twenty four hour remote control
With SecureME's Central Management System, you have 24-hour secure remote control over your internet connection. Via the SecureME website, you can modify firewall rules, create and disable VPNs, check usage patterns and access reports and even change your networks IP addressing.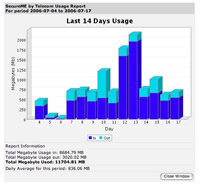 Logging and reporting
While all SecureME traffic goes directly out to the internet, it also securely sends a traffic PC usage report information to the Central Management System.
That means you can monitor and control internet usage from anywhere in the world with internet access. Simply log on to the SecureME website to view usage, check the balance of your plan, monitor where network PCs have been going or see reports like listings of attempted hacks.
Bill control alerts
SecureME provides an alert when you near your internet spending limit. For further control, a cut-off option can be set up which stops all traffic when you reach 100%.
Content filtering
Online inbound and outbound security controls let you choose what traffic enters and leaves your network. This can be as specific as dictating which PCs can send what type of traffic and blocking access to undesirable sites.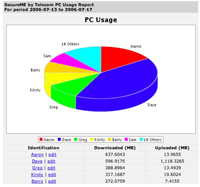 Using a Virtual Private Network you can assign secure remote access to your networks over the Internet and with just three mouse clicks, you can link two SecureME protected offices together. The SecureME Central Management System allows this to happen without static IP addresses.
Similarly, you can grant specified users remote access to your SecureME protected networks with the remote VPN feature, which is useful for accessing the Internet when working away from the office.
Please note, additional third-party software may be required for remote access.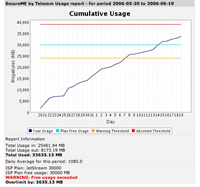 ---
HOW DO I GET SECUREME?
To order SecureME please phone us on 0800 110 062.