Click & Collect lets you purchase products online and choose which Spark store to pick them up from. Find out how to use Click & Collect.
Buy an item using Click & Collect
Select the product you want to buy and follow the on-screen prompts.

When you get to the delivery page, select Collect from store.

Choose the store you want to pick the product up from.

If you order online before midday, your product will be ready to pick up on the same day.

If you order online after midday, your product will be available the next day.

The store will contact you when your order is ready for pick up.
Note: Not all products are able to use Click & Collect. Look for the Click & Collect link under the product image to see if Click & Collect is available.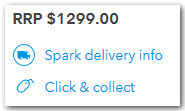 Picking up your order
To be able to pick up your products, you'll need to present valid New Zealand photographic ID and an order number.

The person named to pick up the order will need to show one of the following:

The person who made the order must be the person who collects the order. We can't give the product to someone else on your behalf.
Stores you can choose from
Auckland
Albany, Auckland International Airport, Botany, Broadway - Newmarket, Glenfield, Manukau - Manukau Supa Centre, Manukau – Westfield Mall, New Lynn, Ponsonby, Pukekohe, Queen St, Shore City, Silverdale, St Lukes, Sylvia Park, Takanini, West City, Westgate.
Hamilton
Centreplace, Chartwell Mall, The Base.
Wellington
Lambton Quay, North City, Queensgate, Willis St.
Rest of North Island
Hastings, Napier, New Plymouth, Palmerston North - The Plaza, Paraparaumu, Rotorua, Tauranga - Bayfair, Whakatane, Whangarei.
Christchurch
Christchurch Airport, Central, Hornby, Moorhouse Ave, Northlands, Riccarton Mall, The Palms.
Rest of South Island
Blenheim, Dunedin, Gore, Invercargill, Nelson - Trafalgar Square, Nelson - Richmond Mall, Queenstown, Rangiora, Timaru.
Things to know
If you make an order online after midday, your order will be ready to collect from your chosen store the next day.

We'll contact you when your product is ready to pick up.

If the product isn't already at the store you chose, we'll discuss options with you.

In rare situations, a delay may occur.