Most properties don't need consent – you can just sign up and hook up. But some places can only get connected by installing a fibre cable through shared property. The best way to confirm if you need consent is to check with your Local Fibre Company. If that's the case, everyone affected needs to give their consent so your LFC can get access to install and maintain your fibre connection.
Some LFCs ask you to sort it out yourself and some do it for you. But it's worth making sure you're across the consent process, because it's often where delays happen.
The bottom line: chat with whoever is affected and let them know to look out for a consent form, or knock on their door and see if they're happy to sign the form straight away, so you can go ahead with the fibre install.
You'll need consent if you live...
Down a right of way (ROW) or shared driveway – everyone that lives down the right of way or shares the driveway has to give the go-ahead
In a multi-dwelling unit (MDU) such as a flat or apartment – if you're in an apartment, the owner of the building has to give the go-ahead (note: body corporates can give the go-ahead on behalf of others living there)
In a multistorey building – if you're in a multistorey building, the owner of the building has to give the go-ahead
In a rental property – if you rent your home or business, you'll need to get consent from the landlord or owner
How do you get consent?
When it comes to doing the work, your LFC needs consent so they can keep tabs on their own network, assess your home and then get onto the property to maintain, replace or upgrade parts. Nothing can happen until all the consents have been handed in.
Chorus, Enable and NorthPower look after getting consent for you – so you don't need to do a thing. It's a good idea to check who's responsible for the building or who you share a driveway with and let them know to expect a consent form so it can go back to the LFC and your order can keep progressing.
Ultra Fast Fibre (UFF) ask that you obtain the consents on your own. Further information and links to the necessary consent visit Ultra Fast Fibre's website
All LFCs have agreed to a 30 day period for seeking consent and you'll be notified when consent is gained. If consent is not achieved (usually because those effected haven't completed it) within that time-frame Spark will notify you to advise of next steps.
The company installing fibre in your area is Chorus if you live in:
Ashburton, Auckland (including Pukekohe, Waiuku, Waiheke), Blenheim, Dunedin, Feilding, Gisborne, Greymouth, Invercargill, Kapiti (including Paekakariki, Raumati, Paraparaumu, Waikanae), Levin, Masterton, Napier and Hastings, Nelson, Oamaru, Palmerston North, Queenstown, Rotorua, Taupo, Timaru, Wellington (including Hutt City, Upper Hutt and Porirua) or Whakatane.
Your Local Fibre Company is Northpower if you live in:
Whangarei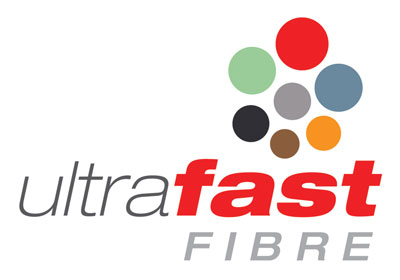 Your Local Fibre Company is UFF if you live in:
Waikato, Taranaki or Wanganui

Your Local Fibre Company is Enable if you live in:
Christchurch or Rolleston
Your Local Fibre Company is likely UnisonFibre if you live in:
Napier, Hastings, Taupo or Rotorua
Your Local Fibre Company (LFC) will install the fibre cable from your street to your house and they'll do their best to make sure you're affected as little as possible. The cable runs through the green pipe from the external termination point (ETP) on the side of your house. Here's a bit of technical info on fibre equipment:
Your fibre cable is black, super lightweight, UV stable, and very thin. There's two steel wires inside which makes the cable incredibly tough. So if you dug a spade into it, you might dent it but not break it. But try not to test that out.
The ETP is the box that connects the fibre cable from the street to the wiring inside your home. It's usually next to other cables, like your gas line. If you already have an ETP for your copper line, your new fibre box will probably go in the same place.
Where will your cables go?
---
You've got a few options for getting fibre installed at your place. Some of these might not work at your home, but you can chat the options through with your technician at the first 'scope and agree' visit to choose one that works for you. Your LFC can:
Put in your new fibre cable next to the existing copper cable
Take out the copper cable and replace that with your new fibre cable
Put in a hybrid cable with both fibre and copper – you'll want to go with this option if you need copper for your landline or a monitored alarm
You can check out details on each fibre cable installation option below.
Fibre Cable Installation Methods
Select the name of the install type to see any available imagery
Aerial Cable
If you get your phone and broadband through an aerial cable at the moment, your new fibre cable can be put in the same way. Plus, if your power runs through an aerial cable too, it might be a good option to fit the fibre cable underneath the power cable.
Underground Pipe
If you get your phone and broadband services through an underground pipe and if there aren't any problems with it, your LFC can dig at both ends of the pipe and just pull your fibre cable through.
Fixed to a fence, driveway, or retaining wall
If you've got a strong enough surface between your house and the road, your new fibre cable can be attached to it. That could be a curb, the edge of a driveway, a footpath, retaining wall or fence – and it's a really good option if you don't want any digging. Plus, if the cable is at risk of bumps and scrapes or if you need multiple cables, down a right of way for example, your cable can be installed inside a pipe to protect it.
Because the fibre cable is super light, it won't put any pressure on the surface and the install team will do their best to hide it where it won't be noticed. If you ever want to put up a new fence or repaint the one you've got, it's easy to unscrew the fibre cable and put it up again. You could even paint the cable while you're at it.
Buried in a grass verge or garden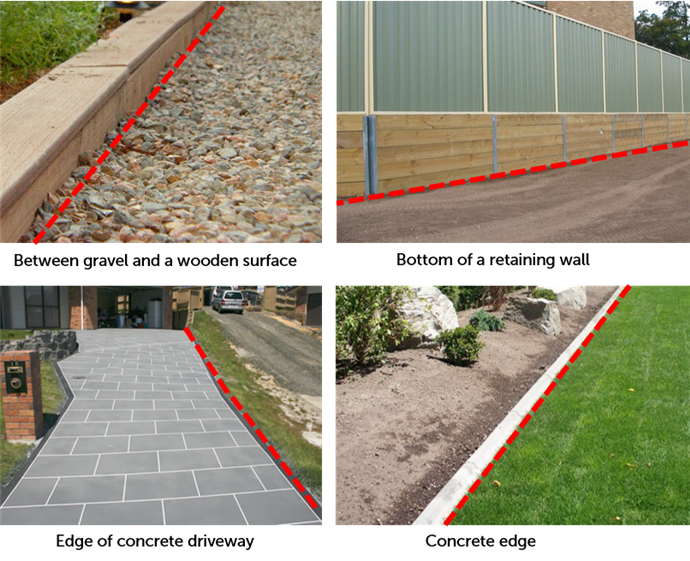 If you've got a grass or dirt driveway, it's fairly easy to bury your fibre cable under that. The installers will choose a spot where the cable won't be dug up accidentally, then dig a shallow trench and lay it inside. The install is pretty flexible, so if the trench needs to curve around a tree or path, that's not a problem.
Don't worry, the people doing the install will make sure your driveway and garden looks the same as it did before. They can replace dirt or turf and even pop grass seed on the garden.
Buried cable under a driveway or path
If you've got a concrete driveway that needs something a bit heavy-duty, your LFC can use machinery to dig a trench for your fibre cables. It can be difficult to match the exact colour of your drive, but the team will do their best to make sure things look the same as before.
When there's drilling needed, your fibre installers will drill two temporary holes, one at each end of your driveway, that gives them just enough room to pull the fibre cable through. If your drive needs trenching, there's a couple of options. Either they can cut right through the top layer or make a narrow cut to lay the cables. Whichever option you go with, they'll make sure they work out a path that doesn't mess with any other cables you have.
Drilling and trenching depends on the location of your house, as well as the type of driveway you've got and where any other underground cables have been installed.
Want to switch from aerial to underground?
If you've got an aerial line at the moment but want your fibre to go in underground, you can get Spark to put through an Overhead to Underground (OHUG) order. That means your LFC does the work and you cover the costs. Or if it's easier, the technician can show you where the trench needs to go and you can do the work yourself. To check out the trenching standards, take a look at the Installing Underground Lead-In Pipes.
While all the underground work is going on, your fibre order will be on hold. When it's all done, your technician will come back and finish off the install.
Your technician can talk you through the installation process, but we've broken down all the equipment you'll need into bite-sized chunks:
External Termination Point (ETP)
You've already got one of these for your copper line – normally it's fixed to the outside of your house. The ETP is a small box that will probably be installed in the same place. It's there to connect your new fibre cable to the fibre hub on the road.
---
Optical Network Terminal (ONT)
Like the ETP, it's a small box, but it goes inside your property.
and
Think of it as the fibre middle man around your house. Your modem and fibre landline will be plugged into it so it's really important to choose the right place – this will give you the best connection. If you can't find a spot that works, you might need to get extra wiring put in and that usually costs extra. Some of the things to think about are power points nearby, as well as jackpoints if you're going to be using a fibre landline. It's also helpful to install the ONT close to where you use the Internet. For a lot of people, that's near a TV or computer.
---
Fibre WiFi modem
When you're ready for your fibre connection. We can courier that to you so you're good to go when the install happens.

Have a look at our: Residential Fibre Modem and Business Fibre Modem images.
---
What's the story with phone jackpoints?
Jackpoints are a stumbling block for a lot of people. Basically, there are two kinds of jackpoints.
Phone: to connect up your home phone
Network: to connect up any devices that use broadband like a computer or smart TV
You can chat with your technician about what you need and how many you need.
Depending on that, you've got a couple of options:
If you want to keep using all your existing phone jackpoints, you should go with Integrated Wiring – just let us know that when you order Fibre. Integrated Wiring connects your phone jackpoints to your ONT, so you can keep using devices like extra phones, medical alarms, fax or devices like Sky TV. If you don't go with Integrated Wiring, you can still use your landline but it needs to be plugged into the ONT – so cordless phones work best.
If you've got devices all over the house and want a higher-performing connection than standard WiFi, you can get extra network jackpoints put into your home. That means it's easy to connect up your devices with an Ethernet cable. It gives you better performance, but it may cost you extra.
What speed can I expect?
Your upload and download speeds depend on a range of factors, including New Zealand and overseas networks, your modem and computer technology, internal home wiring and other environmental factors. Conduct a Speed test.

Time poor? Watch our video linked below on Modem Health.

Modem Health