Sometimes in business it can feel like you need to do everything on your own. Wouldn't it be great if someone offered a helping hand?

We offer products and services tailored to your business. Simply dial 0800 366 784 or book a visit from this Hub to arrange your 30-minute business tech check. How nice and easy that is for a change?
How we're helping our customers
Rossmore Tanks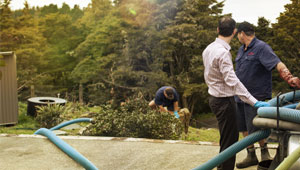 Based in Whangarei, Rossmore Tanks is a 24/7 family-run operation, consisting of Bog Doc and Wastewater Treatment Services. Bog Doc takes care of septic tank cleaning, water tank and sump cleaning, whereas Wastewater Treatment Services specialise in water pump repairs and domestic waste water treatment. Between the two businesses their customers can be anywhere between Kumeu and the top of the North Island.
"One of the team's phones went for a swim in a septic tank around lunch-time, and by 2.00pm the same day, Hamish had delivered a replacement phone."
"You ask him to do something and it just happens."
Karla Tyler-Whiteman – Owner, Rossmore Tanks Ltd
GPS automatically tracks all their vehicles, so they know how long they've been on site.
They have all their landlines, internet and mobiles with the Spark Business Northland.
The team use their mobiles for photos and onsite videos, which they send back to the office for advice and instructions
We'll come to you
You know your business. We know ours. Let's talk. We'll come to you and get it sorted.
Book a visit from this hub
Aaron Redwood

Business Hub Owner

Manjinder Dhillon

Business Development Manager

Natasha Humphries

Business Account Manager

Mike Newman

Business Account Manager

Inzamam Tonmoy

Business Account Manager

Hamish Cates

Business Account Manager

Sarah Hall

Sales Support

Hannah Ugarte

Sales Support
Spark Business Northland
Mon 8:30am - 5pm
Tue 8:30am - 5pm
Wed 8:30am - 5pm
Thu 8:30am - 5pm
Fri 8:30am - 5pm
Sat Closed
Sun Closed