Sometimes in business it can feel like you need to do everything on your own. Wouldn't it be great if someone offered a helping hand?

We offer products and services tailored to your business. Simply dial 0800 945 266 or book a visit from this Hub to arrange your 30-minute business tech check. How nice and easy that is for a change?
How we're helping our customers
Walter Findlay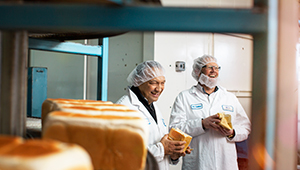 Walter Findlay predominantly contract bake for Quality Bakers in the Gisborne region and surrounds. Another large part of their business is food coatings, crumbs and batter. They have manufacturing plants in Nelson and New South Wales, Australia and an R&D centre in Auckland.

George Pohatu - Walter Findlay Ltd

"We absolutely feel that our Hub person listens to us and gets what we need. Going with the local Hub just made it happen for us"
For Walter Findlay, the best thing about the Spark Business Gisborne is having a 'go to person' who goes away and gets it done.
Going back to Spark, they've noticed better coverage and signal strength - especially in some of the more remote areas of the East Coast.
We'll come to you
You know your business. We know ours. Let's talk. We'll come to you and get it sorted.
Book a visit from this hub
Craig Wilson

Business Hub Owner

Deanna Nisbett

Business Sales

Kasia Travis

Sales Support
Spark Business Gisborne
Mon 9am - 5pm
Tue 9am - 5pm
Wed 9am - 5pm
Thu 9am - 5pm
Fri 9am - 5pm
Sat 9am - 1pm
Sun Closed