Sometimes in business it can feel like you need to do everything on your own. Wouldn't it be great if someone offered a helping hand?

We offer products and services tailored to your business. Simply dial 0800 625 448 or book a visit from this Hub to arrange your 30-minute business tech check. How nice and easy that is for a change?
How we're helping our customers
Elliott Architects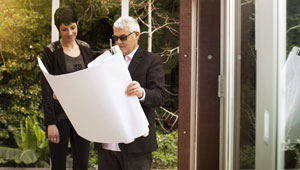 In business since 1989, Elliott Architects' buildings are a mix of corporate, commercial and residential one off designs. Based in New Plymouth, they've worked on projects stretching from Invercargill to Kaitaia. And one of their commercial clients, McDonald's Restaurants has been with them for 20 years.

"There's no issues, the service is good."
Jim Elliott - Director, Elliott Architects.
McDonald's Restaurants has necessitated involvement at a truly international scale, which has meant a lot of communication locally and with the architectural teams in Chicago.
Early adopters of broadband, their business is very internet and email heavy, especially given all the specifications and standards they need to access and the sending and receiving of large files.
They've just upgraded to smartphones with bigger, better screens for viewing files.
We'll come to you
You know your business. We know ours. Let's talk. We'll come to you and get it sorted.
Book a visit from this hub
Julie McLeod

Business Hub Principal/Manager

Latesha Berry

Business Sales

Moana Maaka-Katene

Business Sales

Joshua Ferries

Business Sales

Kylee Martin

Business Sales

Leticha Irvine

Business Sales/Client Liaison

Kayla Fox

Business Sales/Client Liaison

Leisa Healey

Business Sales/Client Liaison
Spark Business Taranaki
Mon 8.30am - 5pm
Tue 8.30am - 5pm
Wed 8.30am - 5pm
Thu 8.30am - 5pm
Fri 8.30am - 5pm
Sat Closed
Sun Closed