Sometimes in business it can feel like you need to do everything on your own. Wouldn't it be great if someone offered a helping hand?

We offer products and services tailored to your business. Simply dial 0800 482 386 or book a visit from this Hub to arrange your 30-minute business tech check. How nice and easy that is for a change?
How we're helping our customers
Wal's Plant Land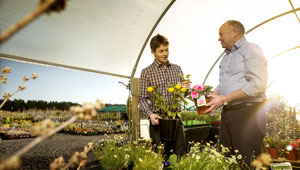 Started in 1945, Wallis's Nurseries has expanded to two nurseries and Wal's Plant Land. Wal's Plant Land has become a local leisure destination in Mosgiel with mini golf, coffee and a miniature railway. And the nurseries now supply garden retailers, landscapers and councils nationwide.

Clive Wallis - Owner, Wal's Plant Land

"The Hub reduced our bills and streamlined our three businesses".

"The Hub is just so convenient - they take care of everything."
With two locations in the South Island and one in the North Island, free calling between staff has significantly reduced their bills.
Richie from the Spark Business Dunedin has also made it much easier for them to keep up with the latest technology. One point of contact has made all the difference.
We'll come to you
You know your business. We know ours. Let's talk. We'll come to you and get it sorted.
Book a visit from this hub
Michael Phillipps

Hub Manager

Greg Angell

Hub Owner

Jared Dixon

Client Manager

Michaël Wauters

Business Account Manager

Fiona McConnon

Business Account Manager

Jessica Arthur

Sales Support

Nicola Wright

Sales Support
Spark Business Dunedin
Mon 9am - 5pm
Tue 9am - 5pm
Wed 9am - 5pm
Thu 9am - 5pm
Fri 9am - 5pm
Sat Closed
Sun Closed