Sometimes in business it can feel like you need to do everything on your own. Wouldn't it be great if someone offered a helping hand?

We offer products and services tailored to your business. Simply dial 0800 006 600 or book a visit from this Hub to arrange your 30-minute business tech check. How nice and easy that is for a change?
How we're helping our customers
Headford Propagators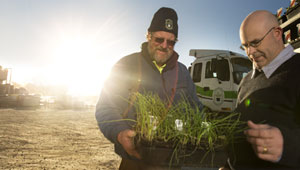 Established in 1995, Waimate-based Headford Propagators has expanded beyond propagation with a specialist plant freight service, with 8 full-time employees and ten trucks. It's a service that's used by many other growers and suppliers nationwide.

Grant Hayman - Managing Director, Headford Propagators

"He listened to what we wanted and set everything up. We're very happy. If anything has needed replacing, it is done instantly."
Previously with another provider, their coverage had deteriorated to a point where they couldn't even get reception at their office. Now they're with Spark, their coverage had improved a great deal.
They even have GPS in their trucks so the office can track them live on-screen and help them with directions if needed.
We'll come to you
You know your business. We know ours. Let's talk. We'll come to you and get it sorted.
Book a visit from this hub
Kerri Rayner

Business Hub Manager

Matthew Barber

Business Accounts Manager

Richard Doran

Business Accounts Manager

Sam Wilson

Business Accounts Manager

Amanda Abbot

Telephone Account Manager

Scott Penhallurick

Business Solutions Manager
(PABX, Commercial WiFi, CCTV)

Thomas Gray

IT Manager

Julie Gudsell

Sales Support

Emma Kay

Customer Resolution Specialist
Spark Business South Canterbury
Mon 08:30am - 5pm
Tue 08:30am - 5pm
Wed 08:30am - 5pm
Thu 08:30am - 5pm
Fri 08:30am - 5pm
Sat Closed
Sun Closed