Sometimes in business it can feel like you need to do everything on your own. Wouldn't it be great if someone offered a helping hand?

We offer products and services tailored to your business. Simply dial 0800 246 027 or book a visit from this Hub to arrange your 30-minute business tech check. How nice and easy that is for a change?
How we're helping our customers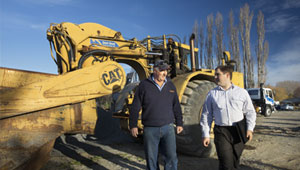 For 11 years Grant Hood Contracting has provided earth moving and civil engineering services to the Ashburton region. Coverage and service are especially important to them given the safety issues of heavy earth moving equipment and remote locations.

Carolyn Bond-Hood - Co-owner, Grant Hood Contracting

"We're rapt with James. We tell him what we want and he makes it happen."
One weekend the kids accidentally deleted all the contacts off Grant's phone. James came over and sorted it out straight away, Carolyn still owes James a thank you chocolate cake.
They've added four phones since coming back to Spark and their monthly phone bill hasn't gone up.
We'll come to you
You know your business. We know ours. Let's talk. We'll come to you and get it sorted.
Book a visit from this hub
Deane Kingan

Business Hub Owner

Russell Weaver

Business Hub Owner

Sid Bhogal

Business Hub Manager

Tristan Palmer

Client Manager

Gaurav Kumar

Business Development Manager

Yolanda Huang

Business Development Manager

Andrew Vickers

Business Accounts Manager

Latasha Costen

Business Accounts Manager

Tanya de Vries

Business Accounts Manager

Gabby Kaur

Business Accounts Manager

Daniel Sanson

Telephone Account Manager

Kirstin Burt

Business Sales Coordinator

Adam Yates

IT Manager

Ahna Kay

Client Liason

Jo-Anne Creagh

Sales Support

Emma Kay

Customer Resolutions Specialist
Spark Business Canterbury
Mon 8:30am - 5pm
Tue 8:30am - 5pm
Wed 8:30am - 5pm
Thu 8:30am - 5pm
Fri 8:30am - 5pm
Sat Closed
Sun Closed